New Marine Facilities for Arrochar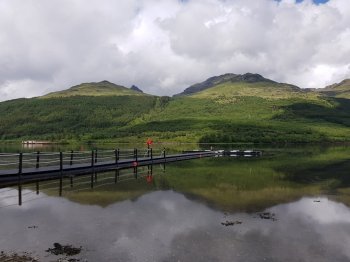 Our project to install a pontoon and visitor moorings started off as an idea at the Arrochar, Tarbet and Ardlui Community Council in December 2015. We soon realised that this project would take a lot of work and began by setting up our own charity, the Loch Long Jetty Association ((SCO47932).
It seemed ludicrous to us to have a beautiful marine asset Loch Long, around which Arrochar was built, and have no safe pedestrian access to it. The only way into or out of a boat was at the edge of the water and usually resulted in wet feet! We were also amazed at the number of boats that would make the long journey up Loch Long and then see them turn round and go back down as there was nowhere for them to moor safely.
We went through all the necessary steps in securing planning permission, checking out different types of pontoons, applying for a Marine Licence and having discussions with Crown Estate Scotland (Interim Management) for a lease for the sea bed, and Luss Estates for a lease for the foreshore area. We also at this stage were applying for any grants we could.
We struck very lucky in October 2018 with two large grants, which meant we then had enough money to implement our project – we couldn't quite believe this and we were 'over the moon'.
So now, the Loch Long Jetty Association is proud to announce the completion of the new marine facilities for our village. We have a Fusion Marine Pontoon measuring 46.1m with a 12.6m hammerhead installed, attached to an existing slipway. The depth of water on the sea side of the hammerhead is 3m at low tide and 2m on the shore side.
We had intended that two visitor moorings would be installed at the same time, but there has been a bit of slippage time on these, but one is now installed (identified by a white buoy) and it is hoped the other will follow within the next few weeks. These moorings will take visiting vessels up to 15 tonnes.
These facilities have been made possible with grants from the following organisations, for which we are extremely grateful:-
The Garfield Weston Foundation 60th Anniversary Fund, the Loch Lomond and the Trossachs National Park, Argyll and Bute Council Supporting Communities Fund, Co-op Local Community Fund, Waitrose Community Matters, Argyll Community Housing Association Community Action Fund and Dunbritton Housing Association Community Support Fund.
We are also extremely grateful for the donations from the Hannah Stirling Loch Lomond Charitable Trust, Forest Holidays, Norman Gourlay, Judy Orr, Cruise Loch Lomond, Ardmay House Outdoor Centre, Ben Arthur's Bothy, Arrochar & Tarbet Community Development Trust, Arrochar, Tarbet & Ardlui Community Council and the Village Inn. We are also grateful to all the people who sponsored two of our members to run two marathons each in two weeks for our charity.
A special thank you is to be given to the Secretary of Strachur Bay Moorings Association, Ian Arnold, who has shared his wisdom with us and held our hand throughout the different stages of this project, and guided us away from potential pitfalls.
As we are a registered charity we do not intend to make a profit but we do need to cover costs such as insurance, lease fees and maintenance. We will endeavour to keep our charges to a minimum. Visitor moorings will be £10 for up to 24 hours with free use of the pontoon. For other boats berthing on the pontoon there will be a fee of £5 for up to four hours. Payment for the present time is via the Honesty Box. There will be no overnight berthing on the pontoon without prior agreement. Fishing permits at minimal costs will be available from the Three Villages Hall and Three Villages Café. Pedestrian access to the pontoon is free.
We look forward to seeing many yachts and pleasure crafts livening up our loch and to welcoming the Yachting Community to Arrochar. For the sake of tranquillity we are not able to facilitate jet skis.
For any information please email: lochlongjettyassociation@gmail.com